How many types of metal roofing are there? If you are curious about the metal roofing solutions available for you and would like to find the best metal roofing solution, our professionals at IPE can provide the best solution for your industrial roofing.
Metal roofing has become a popular choice among Industrial building owners because of its durability and affordability. Industrial Roofing Company, IPE, provides metal roofing services for industrial properties. With their experience and expertise, IPE offers various options for metal roofs, from traditional corrugated metal roofs to energy-efficient insulated standing seam.
IPE helps customers understand the many types of metal roofs available and which best suits their needs. In this article, we will learn about different metal roofing materials.
Types of metal roofing
1. Aluminum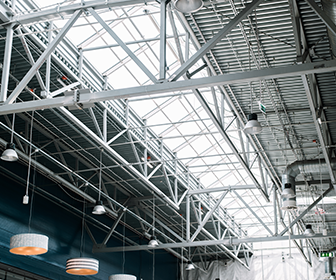 Aluminum metal roofing is a lightweight material with a long lifespan, and it doesn't develop rust or corrode easily. Plus, aluminum metal roofing reflects heat efficiently and reduces climate control costs during hot weather.
2. Steel
Steel metal roofing is another popular choice due to its extreme durability and strong construction capabilities. It can be painted any color you like and features many different designs, giving it plenty of versatility when considering your roof design choices. Plus, steel roofing is also highly resistant to corrosion and fire damage.
3. Zinc
Zinc metal roofing is a fairly uncommon type of metal roof due to its higher cost than other materials like aluminum or steel. Still, it offers plenty of benefits that are appealing to some homeowners. Zinc is an eco-friendly material since it's 100% recyclable, plus it has excellent fire resistance qualities, which help keep your industrial building safe from damage caused by flames or sparks.
4. Copper
Copper provides a unique look that can be aesthetically pleasing but also offers great water protection capabilities. Thanks to its natural antibacterial properties, it prevents the growth of mold and mildew on your roof's surface.
5. Stone-Coated Steel
Stone-coated steel is a highly durable metal panel made of tiles coated with stone chips. Strongly bonded together with incredible adhesion power, that makes these tiles almost impossible to tear off under any circumstances, which is a valuable option. Additionally, stone-coated steel will never rust, meaning you don't have to sacrifice aesthetics with this great product!
6. Corrugated Metal
Corrugated metal panels provide excellent protection against rain as well as providing greater comfort levels inside your industrial building. This style of paneling can also be an aesthetic asset if done properly & painted appropriately – adding unique flair & elegance to any structure too!
7. Standing Seam
Standing seam roofs are probably the most aesthetically pleasing type out there in terms of looks alone. Though their uniqueness in design means their pricing can sometimes skyrocket, with good maintenance, this style can last for years. If you want something special, standing seam may just be what you need! So if you want a low-maintenance option without risking quality, then maybe this should be your first choice!
Discover how IPE makes choosing among the types of metal ceilings easy and efficient
Have you ever wanted to upgrade the roof of your industrial building but needed to know which type of metal roofing was right for you? With so many types of metal roofing available, it can take time to decide which one will best meet your needs. How many types of metal roofing are there? Eliminate speculations when it comes to understanding they types of roofing that can be employed for your industrial building structure requirements, and schedule an assessment with IPE.
IPE specializes in helping industrial building owners make the most educated decisions when selecting metal roofing. They have plenty of experience in helping customers find the perfect metal roof material for their projects, including industrial roof waterproofing and industrial roof restoration.
If you're considering metal roofing for your property, IPE is here to help. A team of experienced professionals will review all the different types of metal roofs available and ensure that you get the best fit for you and your property.