Are you experiencing issues with your commercial or industrial roofing system? Have you been searching for an expert for advanced roofing services, but don't know who is qualified to handle the job?
Commercial and industrial roofing systems are complex and must be handled by a trained professional with experience in this specialty. If you don't make sure the service person you hire has the knowledge base to handle any potential problems properly, it can cost you time and money.
Signs You Need An Expert For Your Advance Roofing Services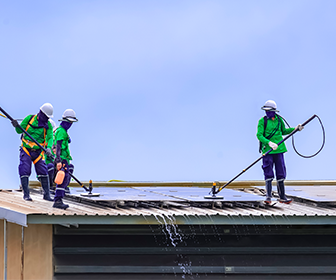 It's important that you always get reliable, qualified help when it comes to commercial and industrial roof services. As such, it's essential that you look for signs that an expert is needed to ensure your roof will be fixed right the first time around.
Here are some signs suggesting it's time to hire an expert for advanced roofing services.
1. You Have an Existing Leakage
An existing roof leak can be a major issue, especially if it's been left untreated for some time. For example, suppose you notice any moist spots or watermarks on the walls and ceilings inside your building due to a roof leak. In that case, you should immediately contact an expert roofing service provider who can provide you with advanced industrial waterproofing roofing services to take care of the leak and restore the integrity of your roof.
2. You Notice Damage on Your Roof
If your roof has visible signs of damage, such as cracks, buckling, and missing or broken shingles, it may be time to call in a professional Industrial Roofing Company to look at the severity of the damages and repair or replace them.
3. Your Building Has Structural Problems
Structural problems in any building should not be taken lightly. If you start noticing grown-offs, cracks in walls and ceilings, mold growth due to water damage, or even other issues that begin to affect your building standing up against weather conditions. Seeking an experienced professional that can do industrial roof restoration can help detect a major structural problem needing immediate attention.
4. New Regulations Coming Into Effect
Advance Roofing services are often required when new regulations come into effect and old roofs cannot keep up with them. It also applies to buildings listed as Grade I and II under local laws; they sometimes require additional insulation than regular roofs. Therefore, contacting an expert service provider will come in handy when you need top-of-the-line installation solutions that conform to these new requirements.
5. Your Roof Is Aging Gracefully
Regular maintenance is essential when it comes down to keeping your roofs in proper condition long-term, but where do you draw the line? Understanding your current roof's state will help determine if it's best suited for repairs or replacement altogether; age alone is not indicative of how much longer a particular system can last, but rather assessing its overall condition. Before investing money into quick fixes, this is another sign you need to advance roofing services with quality solutions.
6. Changes Of Need For Hurricane Resistant Roofs
If your area is subjected to strong gusts of wind from hurricanes, having hurricane-proof roofs will protect structures from potential damage. Talk to experienced industrial roofers familiar with products that can stand up against hurricanes—as they know better than someone far away which product works best for this type of situation! They can provide valuable tips about the ratings and codes that municipalities and insurers require before beginning reproofing jobs, making sure the outcomes comply with security and compliance goals.
7. Time To Upgrade For Insulation Quality
In time, insulation requirements may change—either increasing the R-value ranking of quality or requesting more efficient materials compared to earlier ones. Experienced professionals will provide upgraded insulating qualities to accomplish the desired outcomes more speedily. This can drastically decrease energy losses through roofs and yield utmost performance, rather than merely satisfactory outcomes otherwise attained with underwhelming results if the very same task had been drearily conducted instead.
Is there an industrial building that requires roof repair or restoration services?
Do you need help finding a reliable contractor to provide you with the right solution? Industrial roofing materials can be complex, and it takes skilled professionals to ensure that your roof is properly installed and effectively maintained. At IPE, we specialize in comprehensive roofing solutions for all industrial buildings.
Our highly experienced and knowledgeable professional team has decades of experience providing advanced roofing services for commercial clients nationwide. Contact IPE when your industrial building needs expert assistance. We will demonstrate our specialized knowledge and approach to solving any problem you may have within your specific industry sector.